Geeks – Online Learning and Teaching Marketplace WordPress Theme​
---
Geeks is an online Learning and Teaching Marketplace WordPress Theme built using Tutor LMS. Tutor LMS is currently the fastest-growing LMS plugin. Geeks WordPress theme with Tutor LMS will help you build the most advanced online Learning and Teaching Marketplace using WordPress easily.
Geeks is a fully responsive and modern premium WordPress theme. Geek's design is suited for the academy and online courses marketplace. Geeks provide clean and consistent page designs to help you to create beautiful-looking content. Geek is feature-rich components and beautifully designed pages that help you create the best possible website and web application projects.
Student Login: Dashboard
Username: student
Password: student
Instructor Login: Dashboard
Username: instructor
Password: instructor
Features​
---
Built for Marketplace, Individuals, and Institutions​
---
Geeks are built for content creators whether they are part of an institution or individuals or part of a marketplace. You can use our theme along with Tutor LMS and built a website for your course content. You can also monetize your content quickly using familiar tools such as WooCommerce.
Beautiful Home Page, 4 Landing Pages, and 8 Speciality Pages​
---
Landing page hero, featured section, call-to-action, newsletter sign up for — everything you need to build beautiful marketing websites.
Build Courses and sell them online using Tutor LMS​
---
Geeks WordPress Theme is built using Tutor LMS, the most powerful WordPress LMS plugin. With TutorLMS & Geeks, you can create online courses, prepare curricula, set quizzes and follow up with your clients about their progress. You can manage your courses completely online and monetize them using WooCommerce integration.
Built using Bootstrap 5 and utility first approach​
---
Beautiful UI components & professionally designed, fully responsive pages for course design, landing page, etc using Bootstrap 5 and its powerful features.
Built using Elementor​
---
Our home, our landing pages and other speciality pages are built using Elementor. Elementor is the most popular page builder for WordPress. With the powerful features offered by Elementor you can build our theme pages easily.
Component based widgets for Elementor​
---
We have developed a special plugin called Geeks Elementor that will provide you with Geeks specific Elementor widgets. We've also provided skins for existing Elementor widgets. In addition to skins, we've also added new controls such as Custom CSS and Custom Attributes to add an additional layer of customisations for the Elementor widgets.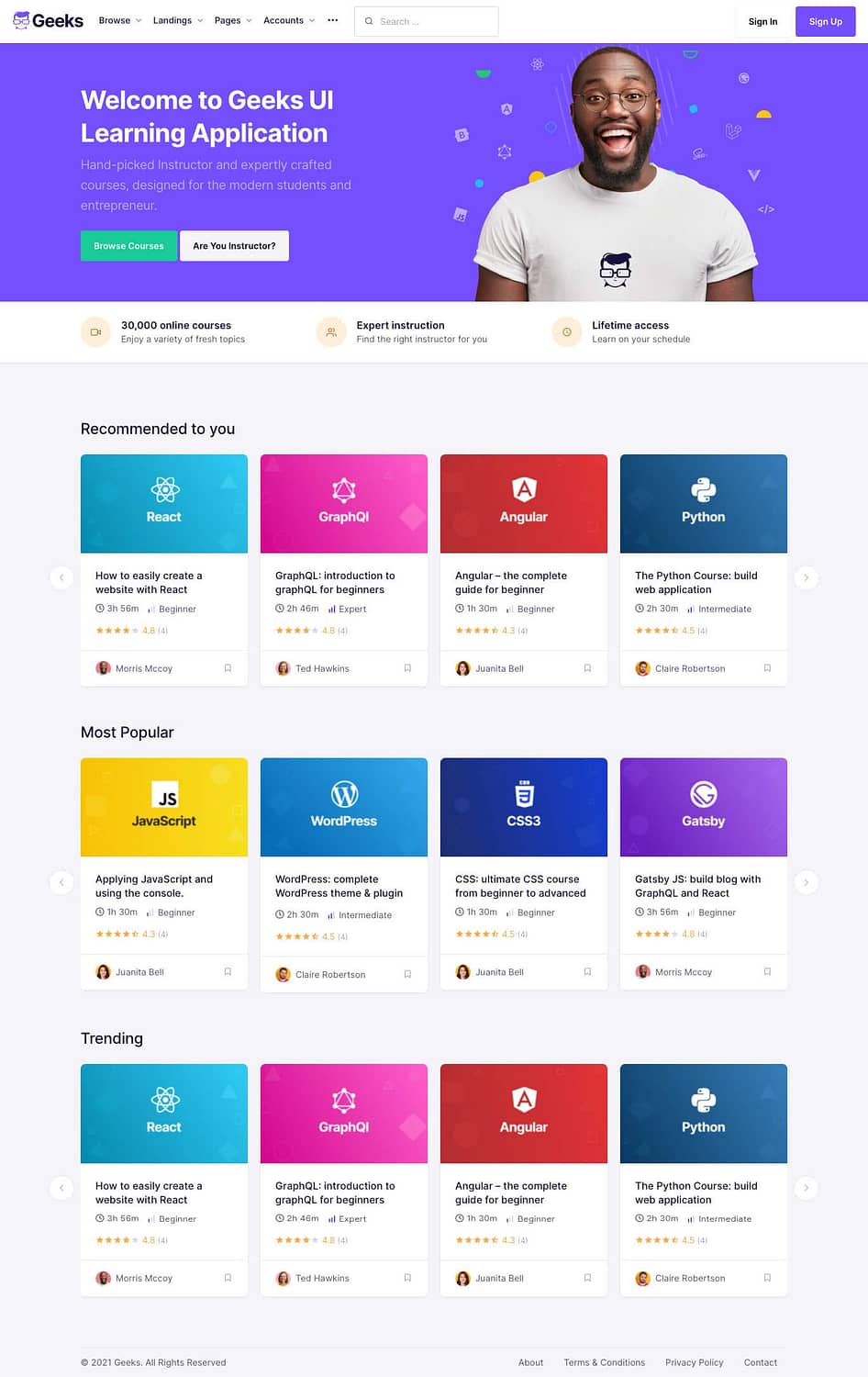 Kindly Note:
The Theme Ul designs are inspired by one or more websites available on the internet. The images and other graphic materials are used for demonstration purposes only.
We do not hold any copyright of any graphical content. these may be copyrighted with any reference website so it is strongly recommended buyers replace these graphical content with their own content. We are not responsible if you face any copyright issues in the future.